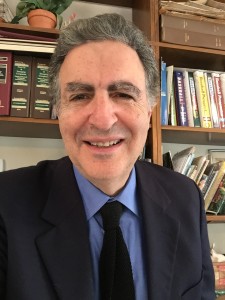 Stephen Ganis has provided for years effective legal services to numerous business clients as an attorney at various firms.  He understands how people who build their businesses are actually engaged in an extension of themselves. Steve has the knowledge to counsel and advise on matters of business development and growth. His empathy for entrepreneurs stems from his personal life.  Prior to attending law school, he was a working journalist, and co-founded and published and edited a (non-digital!) community newspaper in New York City.
His own persona is geared to the skills needed to grow a business. Intelligence, humorous, likeability, and thoroughness.  An authentic approach to life and business matters.
Prior to founding his own law firm, Steve was associated with two New York City law firms, Whitman & Ransom and Robinson, Silverman, Pearce, Aronsohn & Berman (now Bryan Cave), and was general counsel to a Stamford, CT based investment and asset management firm.
Steve is an adjunct professor and teaches business law classes at the Jack Welch College of Business, Sacred Heart University, Fairfield CT.  He has been a frequent speaker, including at  a Funding Post event "Angels and Venture Capital" and "Business Financing" at the Dartmouth Entrepreneurial Network. He has edited a publication for the Connecticut Bar Association.
While in solo practice, Steve has served as outside counsel  to Seabury Group, a global  transportation advisory and investment banking firm, and to Welbilt (now Manitowac) Corporation, a nationwide foodservice equipment manufacturer.
Steve is admitted to the New York and Connecticut Bar, the U.S. District Court for Connecticut,  the U.S. District Court for the Eastern District of New York and the U.S. District Court for the Southern District of New York.  He is married and has two grown children.  He has been active in local public education issues, and has served on the Boards of local charitable and religious institutions.
Email: steve@ganiscorporatelaw.com
Back to Home Page