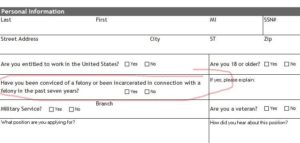 Connecticut employers will have to amend their Employment Applications to make sure they comply with the new Connecticut law to take effect January 1, 2017 which will prohibit virtually all Connecticut employers from inquiring into an applicant's prior arrests, criminal charges or convictions in the employment application.  It's not clear whether this law extends to independent contractors.  The law, informally called the "Ban the Box" law,  does enable Connecticut employers to make a criminal history inquiry after a conditional offer of employment is extended.
The law provides for two exceptions:
(1) when the employer is required by state or federal law to inquire about prior arrests, criminal charges or convictions for the position in question; and
(2) when the position requires a security, fidelity or equivalent bond.
Even if one of the exceptions applies, there must be "clear and conspicuous notice language" in the Application advising the applicant that s/he is  not required to disclose the existence of any arrest, criminal charge or conviction which has been erased or is subject to erasure under various Connecticut statutes, including certain juvenile offenses.
The Connecticut law is modeled after other "Ban the Box" laws that have been enacted in many States.  The public policy is to remove the stigma of prior criminal convictions, and to provide a  "fair chance" for employment for those with a criminal record.  It has been supported by civil rights groups who have noted that questions about prior arrests have had a disproportionate impact on employer's hiring decisions of minority candidates.
The Connecticut Labor Commissioner is charged to handle all complaints filed by individuals alleging violation of the new law.  Individuals do not have the right to sue an employer.